http://medanthro.kaapeli.fi
Read 24.09.2021 at 14.13
---


Ethnographies of Illness Experience in Contemporary Finnish Contexts
Academy of Finland, 1999 - 2004

Person in charge


Publications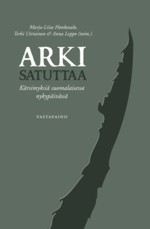 The project has published an anthology titled

Sufferings in everyday life

. It deals with various sufferings and miseries in contemporary Finnish society.

Marja-Liisa Honkasalo, Terhi Utriainen ja Anna Leppo (toim.): "

Arki satuttaa. Kärsimyksiä suomalaisessa nykypäivässä

" Vastapaino, Tampere 2004.



Research topics

Marja-Liisa Honkasalo, MD., PhD., Helsinki Collegium for Advanced Studies, fellow, Dept. Public Health, docent

Juha Soivio, MA, Department of Cultural Anthropology, PhD. candidate

Vilma Hänninen, PhD., Department of Social Psychology

Susanne Ådahl, PhD, Department of Social and Cultural Anthropology, University of Helsinki

Annika Lillrank, Ph.D , Department of Social Policy, University of Helsinki

Terhi Utriainen, PhD., Department of Comparative Religion, Post doctoral research fellow (Academy of Finland)

Marja Tiilikainen, PhD, Department of Comparative Religion

Salome Tuomaala, MA, Department of Comparative Religion, University of Helsinki

Anna Leppo , MSc, Department of Sociology, University of Helsinki



Project description

The aim of this multi-disciplinary research project is to shed light on the experience and representation of illness as a social and cultural question. The research is based within the field of medical anthropology, but leans on the theoretical and methodological research foundations of social medicine, anthropology, comparative religion, social psychology and gender studies.

Cultural research on Finnish public health concerns have, until now, scarcely been carried out. Broad epidemiological projects of the risk factors of both cardiovascular diseases and depression, as well as demographic studies on the interesting disparity in disease incidence between eastern and western Finland have, on the other hand, been implemented. The questions that have arisen from these studies need to be parallelled by cultural research. Demographic research provides an interesting space that qualitative and experience-based research can fill.

The perceptions people have of their own illness give us different kinds of images than those provided by biomedical research. Biomedical interpretations play a central role in the "lay" or everyday life theories of individuals in contemporary, western society. Everyday life theories do not appear in a "pure" form, but are, rather, saturated with influences from the world around us and informed by medical discourse. Nonetheless, it is necessary to stress that also anthropological research has relativised the scientifically held biomedical perceptions, and particularly psychiatric categories. Interpretations are also affected by gender, ethnicity, social class and age. These interpretations often contain contradictory elements, from which individuals seek to build and negotiate suitable totalities in order to survive the threats caused by illness.

The aim of our project is to study the illness interpretations and perceptions of individuals, and particularly of the Finnish public health concerns, depression and coronary disease. The overall research question that combines our multi-disciplinary approach is: How can we interpret and conceptualise illness as social and cultural question? In order to conduct cultural research on a question with such broad implications, we have situated it both historically and locally, which is why our methodological approach is one of "deep contextualisation". We are investigating everyday life perceptions in both a contemporary and historical context, placing them within the local contexts of the Finnish urban centre, a north Karelian village and the coastal area of south western Finland. Our methods are mainly ethnographic but we also apply textual analysis and narrative approach.

The research is based on the insiders point of view, the "emic" perspective. The experience of the sufferer is the starting point of our study. With suffering we mean the general human universal, which takes a concrete form in the actions of individuals and in local practices. Suffering links problems that are deeply rooted in the social. Suffering, as a category, links spaces that usually are separated like illness, health, well-being, and religious and legal issues. The concept of suffering is seldom used in social science or humanistic research. The understanding of it in health studies is limited and requires theoretical development. In this research process we are investigating the experience of suffering from the perspective of meaning structures and intersubjectivity.

The objectives of this research project, divided into different sub-studies, are:



~

experiences of chronic diseases, particularly cardiovascular disease and depression, in the Finnish society and culture


~

the cultural construction of these experiences and the religious models that inform them, especially in terms of


~

lay theories and the durable constructions that they bring to light, as well as the transformations in lay theories brought about by social change


~

social interaction, where meaning and interpretations are produced, and


~

the Finnish character of illness experiences and their historical and local variability

The questions posed to our empirical material are:



~

how do individuals experience and interpret their suffering and illnesses as part of their everyday life?


~

how are changes and permanence in these perceptions historically constructed?


~

what are the central sub-texts that construct suffering and illness?


~

in which ways are illness experiences, categories and interpretations cultural and situational questions?


~

How do people, who have moved to Finland, interpret and construct their illness in Finland and how does the Finnish society respond to this?


~

What role does diaspora and homelessness play in the construction of the illness experience?


~

How do perceptions of the good life among Finns and immigrants move closer to each other and to what degree do they become intertwined?


~

How "Finnish" are Finnish public health diseases?





---
Helsinki Collegium for Advanced Studies
P.O. Box 4, FIN-00014 University of Helsinki
E-Mail: marja-liisa.honkasalo@helsinki.fi, Telephone: +358-9-191 23915, +358-9-2989516